Water is one of the most important resources we have at earth. We need water to reduce our thirst and to do daily tasks. There are a lot of places where people have easy access to water, meanwhile some have a hard time getting it. Some also don't have access to clean freshwater at all. Which causes problems and unecessary deaths around the world. There shouldn't really be a problem providing easy access to water to the people, but it still is. Because some areas have too much, meanwhile others have almost nothing. Alot of places have clean freshwater, and again, other places have the opposite.
Some people wouldn't really consider this a problem, because they haven't excperienced the life of not having easy access or having only dirty water. Most people can be ignorant and don't realise the consequenses and the effect before experiencing the real deal themselves. An example of this matter, we can find in the story 'Thirst'. People don't really realise how easy it is to take things for granted, and then when those things are gone. They then have to watch everything around them slowly collapse right i front of them, for taking things for granted.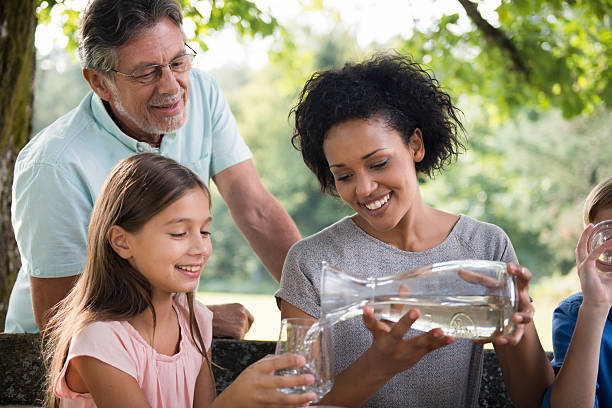 Not having easy access to water can cause consequenses. The ones that are suffering and affected the most are women and children. In the text 'The importance of water', they tell us a lot about specificially this problem. On a daily basis, women and children from different places in our world, have to spend 125 million hours a day collecting water. In some continents, they also have to walk many kilometres everyday, just to collect enough water for their families. And think hard on this. They do this everyday. They do this everyday to provide their family with water. Many young girls have to spend hours of walking just to fetch water. Which is hours less of schooling for them. Which means that they are not able to get a good education because they are so occupied by these kinds of chores that should not be a responsibility for a young child.                                                      In some countries, women are not allowed to relieve themselves during the daytime. They are forced to wait for the night to come, fearing that their privacy will be violated. Many girls also drop out of school when they reach puberty, because the schools do not have proper sanitation for them to use when they get their period.
People around the world, are trying to solve this problem. But it is not as easy as it looks, because every choice has their own consequenses.